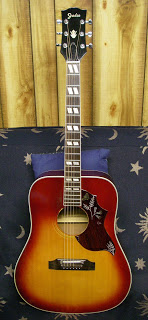 Even though I'd been playing for almost two years, it was on a student sized brick.  The neck was thick, the action was high, it was small, I was big.  I wanted a "real" (read dreadnought) guitar.  Through a co-worker, my mom met a musician in a christian family band, complete with converted school bus, who was selling a guitar.  Somehow money was scraped up and I became the proud owner of a Japanese Gibson-copy lawsuit Hummingbird.
This little gem was made during Japan's great copy heyday.  Plays like a dream, rich tone; it was my constant companion from seventh grade through my senior year in high school.
A couple of years ago I took it into Midwest guitar and had Mike do some adjusting and sprucing up.  Little bridge work, new tuning keys, replace and dress some frets.  Plays better than ever.  The Jadee will always be in my collection.