The 2014 Lenten fish fry season began today, Ash Wednesday.  Being pressed for time running between work and church, I ducked into Epiphany Of Our Lord (yes, the one with the bowling alley) over on Smiley for a quick nosh.  Wow, they have the smallest parking lot of any Catholic church / school I've ever seen!  If you go, grab some street parking and take a little walk.  But enough of that – to the fish!
As the Friday Night Fish guy says, there are no bad fries.  There is always something to like.  At Epiphany, it's all about the sides.  They load you up, plus you can buy extra 4 oz cups of them, mostly for 75¢.  Today there were two different slaws and jellos, a fruit cup, "pickled" beets, four different breads, sweet red spaghetti, mac & cheese, green beans and corn.  Whew!  Fish choices were all fried – cod, cat, jack salmon (which is a colloquialism here for whiting) and shrimp.  Many, many home made desserts to choose from and if that isn't enough for you, the Girl Scouts were on hand schlepping boxes of cookies to boot.  There's also beer, wine and soda for sale; water and tea free with the meal.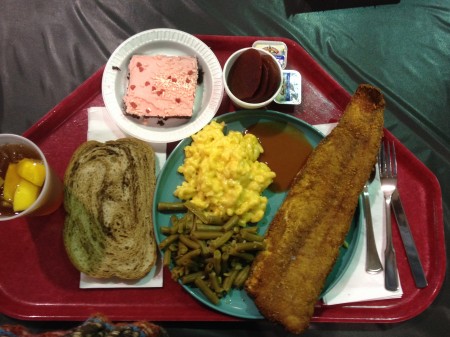 Everything here was a mere $6.75.  The whiting, while a bit over-cooked, was still very good. Tender on the inside, crisp on the outside, not many bones, appropriately fishy.  My friend had the cod, though, and it was totally sub-par, over-cooked and flavorless.  A lovely couple offered me a shrimp to taste and it was good, sized well and still with tail.  The "pickled" beets were interesting… loaded, I mean LOADED, with cinnamon. To the point of it turning into an oddly slimy sauce with the sugar-vinegar pickling, yet somehow it worked.  Mac & cheese was home made and not bad. It needed salt and was improved by a sprinkling of hot sauce.  My choice for dessert was a chocolate brownie.  They could have left off the cutesie icing, but it was moist and chewy and rich they way a brownie should be.  You're looking at my plate now thinking, what about those green beans?  Um… Eeew. Yuk. Blech.
People, people, people.  Listen up all you wanna be church chefs.  A word about green beans.  Opening a #10 can of salt-free green beans and dumping it into a steam table does not a side dish make.  Just because it's Lent and you can't flavor them with bacon, doesn't mean you can't flavor them at all.  Get thee to a spice rack!  How about onions and sage?  Basil and lemon?  Almonds, olive oil and garlic?  Smoked paprika and onions and parmesan?  Mushrooms and fried onion crisps?  Spend the extra five spot at Aldi's and make your diners happy.  Thank you.
So not a bad start to the season, but lots of room for improvement.  Stay tuned for further fish fry adventures in St. Louis.  Are you looking for a fry?  The folks over at Craves, Cave & Graves just updated their metro St. Louis interactive fish fry map.  Check out options galore.  See ya at the fry!