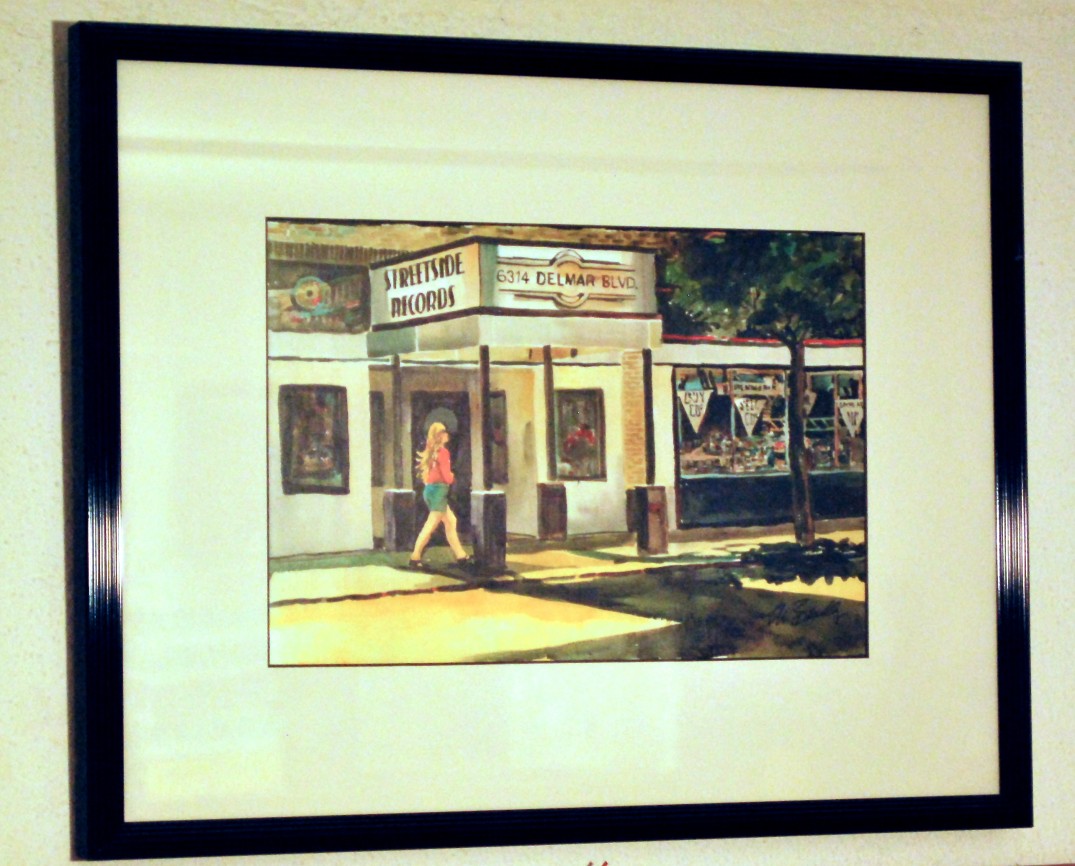 Ten years ago this week I lost the best job I ever had.  At the time, it was also the worst.  A year earlier I would have wept while gathering my treasures.  But by June of 2003, most of my personal belongings had already been squirreled away in my basement while I waited for relief, of my own volition or not.
Horrible fortune had befallen Streetside Records.   The financial transaction that was politely presented as a merger with another independently owned mid-sized entertainment retail chain (full of bobble-heads, stink bombs and key chains) had come to light as nothing more than a takeover.   Streetside stores were being vacuumed of inventory, which was not replaced by new, salable merchandise.  Buyers were no longer local.  New releases were grossly under-purchased, missed, or worse yet, inventory was reported as ordered when it was in fact not.  The "new" president of the "new" company was not appreciative that this and other subterfuge was pointed out in front of all management during the weekly conference call.  My fate was sealed.  The next store that closed gave them the opportunity to "downsize" me.  My only regret was that two weeks later the chain declared bankruptcy, stopping all downsized employees' severance pay.  It's not like we were blowing that money on ponies at the track, we'd earned it and needed it to rebuild our lives. We deserved better.
After that, the chain was fire-saled to a national entertainment retailer that continued to close store after store.  While it was still a loss, those were no longer Streetside Records stores.  Streetside as we knew it ceased to be in May of 2002.
Sure, it was never all Peaches (sic) and cream. Even before 2002 we were struggling to find an edge in a quickly withering industry.  Shoplifting, internal theft, shootings, cars stolen off the lot, property vandalized, people not showing up for work, infighting, love triangles, racial tensions, too much to do and not enough time to do it, your basic retail challenges.  Still, taking all that into consideration, before 2002?  The best job ever.
We worked as hard as we played.  I put in many long hours learning and honing skills in sales, accounting, purchasing, HR, merchandising, advertising, event planning, training, promotion, inventory control and administration.  Somehow, all the effort was worth it when those free concert tickets arrived in the tub, shrouded in a manila routing envelope with my name scrawled in nearing indecipherable Randy-script.  It was worth it when I walked into Mississippi Nights and my drink was being poured before even making it up to the bar.  It was worth it to wear jeans every day, to be part of a feature in Billboard magazine and to be interviewed on TV when Jerry Garcia died and the Pope came to town (not simultaneously).
There was CD Tuesday, grilling hotdogs and having "adult beverages" on the back packing lot during sales, managing hundreds of people swarming in to see Nelly, Counting Crows, Train, Kirk Franklin, Leonard Slatkin, LL Cool J and They Might Be Giants (again, not simultaneously!), drinking champagne on Christmas eve while counting up the day's take, stinking up the back room with a feast from the Chinaman or Mother's Fish and taking turns running back to eat it, working the St. Louis Bluesfest, Big Muddy Music Fest, Pridefest and the Kansas City Jazz and Blues Fest in the sweltering heat, House of India lunches, gospel music Sundays, Mama's Coal Pot BBQ, hours on a ladder with a staple gun, arguing with the IT guru until he spit rice, registering folks to Rock The Vote at Riverport (Verizon) Amphitheater, sneakin' walk & talk treats at the Elms, chillin' in the classical room (literally, the best A/C), shows at Mississippi Nights, the Side Door, and the Hi-Pointe, spending too much of someone else's money at Riddles Penultimate, inventory and the post-inventory Blueberry Hill decompression sessions, San Francisco NARM (agree to everything, commit to nothing), Walshisms, playing pool after a hard day of manager meetings, and of course, opening night at The Pageant.
Fun and prestige aside, most of all it was worth it because of the people.  Music people are a different and passionate breed. No matter the genre, it was that all encompassing musical passion that brought us together on common ground. Many of the friendships forged in that retail fire are proving to last a lifetime, even though Streetside alum are flung far and wide.  When you go through umpteen crazy highs and more than a couple lunatic lows together, neither miles nor years can break those bonds.  When we do get together, just like family, we pick right up where we left off, usually with a big hug, as the years melt away.  I think of them often, catching up with some folks on social media, wondering how others are doing, remembering lessons learned and applying that knowledge to my current job.  Some day I'd like to throw a big reunion party and see how many of the old Streetsiders would come.  Maybe 2016, for the 45th year, if we make it that long.  Sadly, it's already too late for some, but they would want us to rock it hard in their honor, I know it.
But now the old Creve Coeur store is a First Watch, Webster is Highway 61 Roadhouse, and Delmar, the flagship, my home for just over ten years, is a Noodles and Company and a Chipotle Mexican Grill.  I'd like a table in the Jazz section, please, and have you checked the sump pump in the dungeon?  There's been an awful lot of rain this spring….
Yes, bittersweet, hilarious and precious memories will always be there for me, every time I see a band or hear a song that places me back there, back at the castle, back at Streetside Records.  The best job I ever had.
(photo of a print of an original watercolor of me walking in front of the Delmar Streetside, will update if I can locate the artist.)