Seven Holy Founders in Affton has been a go-to for us for at least three years now.  This year we encountered the biggest line yet.  Don't get me wrong, I like SHF's fry, but this was crazy out the door long, not quite what we've seen in years previous.  It's nice that you can get a mixed drink, there's wine and of course beer, too.  Get one for the wait.
Shrimp is the draw here, or rather, the home made cocktail sauce.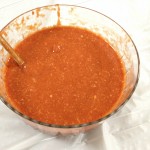 It's extra horse radishy and extra good.  They also make their own tartar sauce.  It's self serve, so ladle up as much as you need.  No awful foil packets here (unless you need it to go, even then, don't do it; just ask for a cup & dip it up).  The shrimp plate is a bit high here, $10. but you get seven shrimp (one for each Holy Founder!) of the big, tail on, butterfly variety, presumably from the secret Catholic shrimp depot.  A tad over cooked, but not by much.  Cod is a frozen triangle, but a surprisingly moist and lightly breaded one.  Not over cooked, fairly flavorful, great with the home made tartar sauce.
SHF's signature side is au gratin potatoes.  Yes, they came in a bag, boil & sauce, just like Betty Crocker, but they are tender, creamy and cheesy, if in need of salt.  Nice comfort food.  Marinara spaghetti was flavorful with some garlic & herb action instead of the sweet kind and was pretty good after a little parm topping.  Green beans tried by a friend were okay, but not more; see first fry post's rant on canned bean beans.  Slaw was vinegar & oil, slightly sweet and pronounced good by a friend who is usually not a fan the stuff.  There was also cheese pizza for the kiddos and the option of a half & half plate to try both shrimp and fish.  Water, lemonade and coffee were included, home made desserts an extra 50¢.  A bargain like that, you should get two!  My husband praised the pie, I tried the gooey butter cake topped with cookie dough and oreos.  It was make-your-teeth-hurt sweet, but oh, so scrumptious.  Always a good time at Seven Holy Founders, but I think St. Stephen the Protomartyr edged them out this year….