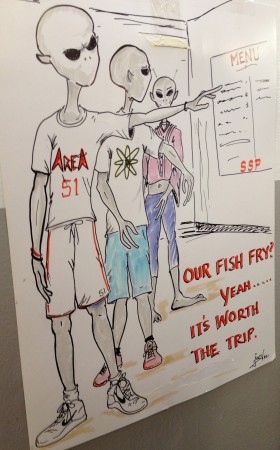 Too late we thought, "Shoot!  We should've gone to PI-us V tonight…." And then, "I can't believe there's only cake on the dessert table…" We've been watching way too many Big Bang Theory re-runs.  Aside from the lack of PIe, St. Stephen's fry was two fins up!
The line was long, and even longer by the time we sat down, rivaling St. Ceclia's.  But like the sign said, it was worth the trip.  Not only can you get the typical AB beer here, but some tasty Schlafly products and decent wine as well.  Better yet, these folks take pride in their sides! While I hate that I missed the sautéd green beans and sweet potato fries that rotated through last week (as well as the grouper catch of the day), the rice pilaf was well seasoned, fluffy and full of bits of veggies, nuts and dried cranberries.  Mac 'n' cheese bites were hot from the fryer, very cheddary, not overly breaded and were cooked fast enough to not be greasy.  Slaw was of the oil and vinegar variety, lots of celery seed thoughout.  Finally, a fry with pups!  Hush puppies were golden and crunchy on the outside, fluffy on the inside, hot and yummy.  Love those things!  But what about the fish?
Best fried cod so far!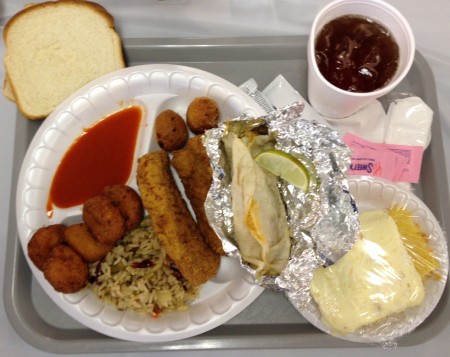 Thick cod loins, light on the seasoned breading, not at all over-cooked.  Moist, flake-apart fish with soft flavor.  It was delightful.  You could also get the cod baked.  Catch of the day was baked salmon, folks spoke well of it, as of the jumbo butterflied shrimp, (there's that secret Catholic shrimp again) although I did not try them.  I did add on on of their famous fish tacos, and I'm so glad I did!  First, the fish inside is not fried.  This is a huge plus.  They serve them soft, so there's melty cheese inside that tastes like it might be pepper-jack.  A bit of veg, a secret chipolte sauce, some taco sauce and could that have been a teaspoon of refried beans?  Wrapped up in a flour tortilla, then in foil.  Personally, I like a little more hot sauce, and it's there for the taking.  Made for a happy tummy.  Other condiments are in the aweful fast food squirt packs, which was a bit disappointing, since such care had gone into everything else.  Skip them.
Water, tea & lemonade are part of the meal, home made desserts are extra, but don't pass it up.  I snagged the last piece of pineapple not-upside-down cake.  It was fresh, richly moist and covered with cool whip type frosting loaded with pineapple bits.  Sweet.
More notable points?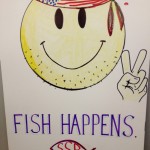 They have the square, so charge those fishes!  Even though they were very busy, a nice lady came around and asked if we needed more tea.  A guy picking up trays boasted that some folks from Sorrows (Our Lady of Sorrows, a neighboring parish that has potato soup featured next week) came over and bought ten of the tacos to take back and evaluate… a little inter-diocesan espionage!  And of course, there is Sharky, the school / fish fry mascot, who was unfortunately no where to be found tonight.  All in all, a fantastic fry!  Check them out every Friday in lent.