Over on 9th, in the shadow of the A-B brewery and across the way from the haunted Lemp mansion, St. Agatha's is the "other" Polish church in St. Louis, the one that's still regular Roman Catholic.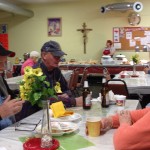 Down the stairwell, into the basement that doubles as a cafe and Polish library, this parish hosts one of the best kept fish fry secrets in town.  It's small and cozy, the line is short, the price is low and the quality is high.  If you don't speak Polish, don't count on eavesdropping in this parish hall, you won't get too far.  That's okay, you'll be too busy chewing.
Everything.  Unless you request to skip something, every plate comes with everything.  Big tilapia fillet, crinkle cut fries, creamy cole slaw, tomato-pepper rice, sauerkraut slaw, bread, butter, dessert and a drink.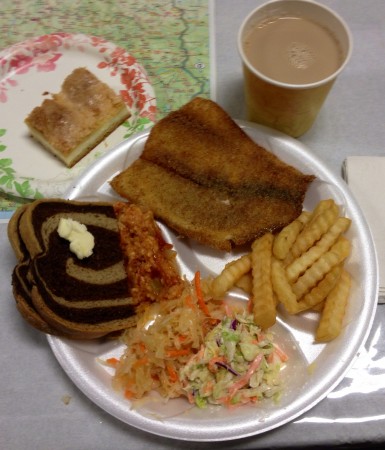 All for $7.00.  Yes, just seven dollars.  So it's a bargain, but is it good?  Oh, yeah.  The fish is moist on the inside, crispy golden on the edges, not overcooked at all.  Plus a rather large portion.  Crinkle cuts are my favorite fries, hot and fresh.  The rice was a bit under-cooked, but tasty, spiced like a stuffed pepper without the meat.  Regular slaw is not my favorite, but it was good for creamy slaw.  However, kraut slaw is a fave, and theirs is not too salty, not too sour, with just enough shredded carrot to bring out a balanced sweetness.  More than one bread was available, but how could you pass up swirled rye?  Home made desserts round out the meal and there was about five to choose from.  My husband picked the apple cake; it was dense and fruity like an apple-topped coffee cake.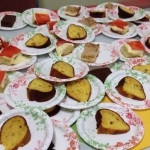 I went for a cheese filled gooey butter cake thing.  Creamy, gooey, cheesecakey, everything good.  All things considered, this is still my favorite fry in St. Louis.
Adding to the festivities this year, St. Agatha's added what they are calling a Polish food festival.  I had hoped that meant I could have pierogies with my meal, but no such luck.  You could, however,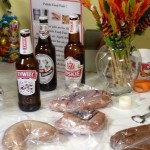 buy a Polish beer to have there.  There was a nice selection of meats and sausages to purchase and take home as well as pierogies from Chicago.  I went for those and the kishka.  An elderly gentleman confirmed my sausage choice as the best thing on the table and asked if I was Polish.  Why, yes, I am….. He said he could tell.  I hope that's a good thing.