Usually I pick a fry because it has a special feature.  Best potatoes ever (Joan of Arc), or really horsey home made shrimp cocktail sauce (Seven Holy Founders).  But we were on our way to a show, so yesterday's pick was all about location.  Immaculate Conception in Maplewood got the nod.  As previously noted, there are no bad fries, and we went away full and satisfied, although with lighter wallets.  That said, here's what we found.
Another great big gym, another parking nightmare, but once inside, the line moved quickly and there was plenty of room to land.  Separate beer /soda line so you can get one while you wait.  A nice feature at ICM is that you can get either a one or two piece meal plus you can add shrimp by the piece.  Baked cod is also available.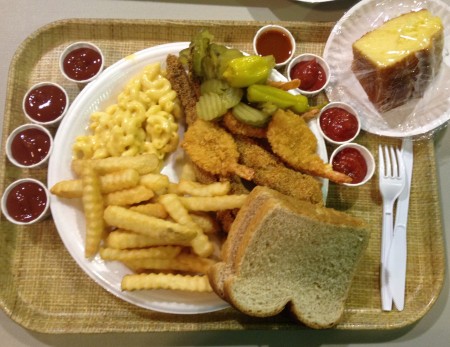 Jack Salmon was in the traditional whole fish form, very flavorful but just a tad overcooked.  I know everyone has to abide by the health department temperature rules, but I don't think folks understand that the fish will continue to cook a bit after its pulled up out of the oil and you will hit that legal level with no problem.  Anyway…  cod was a big rectangle and perfectly cooked.  The standout here was the shrimp.  Large, butterflied with tails on, not overly breaded, sweet and tender.  In other words, the exact same as Seven Holy Founders!  Yum!  Is there some secret underground Catholic shrimp distribution network or something?  (And if so, why wouldn't everyone use it?)
Sides were average.  After Wednesday's green bean disappointment, I did not try them here, as they looked to be of the same dumped out can variety. I could be wrong, didn't taste them.  I also did not try the sweet red spaghetti, but many small children seemed delighted by it.  Mac & cheese was creamy and comforting, but bland and seemed to be a can-o-cheese industrial school lunch recipe, much improved by salt and hot sauce.  Oil & vinegar slaw looked good and the fresh side salad was very large with the St. Louis special sweet Italian type dressing in a bowl for the taking.  The gem in side land was the hot, fresh crinkle cut french fries.  Done in small batches and brought out often, there was not a cold greasy lump in the bunch.  Along with the regular condiments, the table held big bowls of pickles for your sammies and pepperoncini as well as hot sauce.  So glad everyone is getting on the hot sauce with fish bandwagon!  Now can we get some sliced onion?  Desserts were extra, but home made baked goodness abounded from pie to cake to cheesecake and cookies, and all looked fantastic.  It was a hard choice between the German chocolate and the lemon , but citrus won.  So moist, so lemony, drizzled in even more lemon; it was a perfect ending.
It's only Saturday and I'm already planning for next week….